Autochartist is a software well-known for its excellent analytical capabilities. It is extremely convenient for all types of traders, beginners and experts alike. The software works perfectly for any market: Forex, shares, indices or metals. Autochartist analyses graphical patterns, unveils Fibonacci sequences and informs its users about trading opportunities. It monitors thousands of instruments simultaneously and, after finding a formed pattern, sends you a notification. One of the most noticeable feature of Autochartist is PowerStats. It gives you a strong statistical analysis of the instruments you are interested in. Moreover, PowerStats simplifies your risks-evaluation and helps you to mark appropriate Stop Loss and Take Profit levels. Learn how to use Autochartist with Admiral Markets: start with Autochartist download now.
A Review of the Key Features of Autochartist
Here's an introduction to some of the key benefits of the Autochartist pattern recognition software. If these features sound interesting to you, consider taking advantage of our 30 day Autochartist free trial, accessible direct from your Admiral Market's Trader's Room.
Autochartist for MT4 software:
Now all the Autochartist features are brought to MetaTrader 4 platform. The only thing you need to do is install this plugin on your computer. It takes less than 30 seconds. No additional signing in or contacting with external broker partners is required. When the tool is integrated with MT4, Autochartist still offers you the same features as a web app: Fibonacci patterns, Chart patterns and PowerStats. To activate preferred indicators, you need to drag them from the list of all the indicators into the chart. You may also choose the time frame. Autochartist free download is available as a plugin for MT4 at Admiral Markets website. Get it now to experience an automated way of searching the patterns.

Overview of chart patterns:
Autochartist plugin was designed for a wide variety of the markets: Forex, shares, equities, futures, etc. Automatically identifying all the figures on the chart, it becomes a necessity in a modern trading community. The program is sending its user an audio or video notification, signalling an arisen opportunity. One of the most significant natural advantage of Autochartist is its suitability to all types of traders. Beginning traders can make their first step on the market using simplified technical analysis - the levels of support and resistance are clearly visible on the graph. Experienced traders will appreciate Forex Autochartist for its colossal scanning abilities and the ability to catch every single opportunity.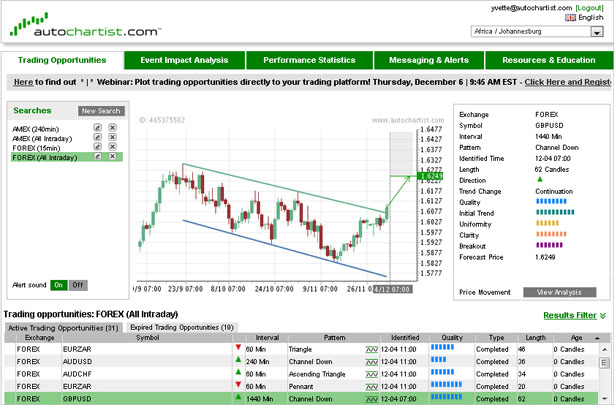 Overview of Fibonacci patterns:
Fibonacci Patterns are automatically found by Autochartist. They allow traders to determine the level of asset's volatility as well as correction, support and resistance levels. Correspondence with the Golden Ratio rule is another advantage, as such levels play a key role in determining Stop Loss and Take Profit levels. The variety of the patterns identified by Autochartist is huge: ABCD, retracements, Gartley or Butterfly sequences. The add-on easily identifies already formed patterns as well as those that are just starting to form. It is only up to you whether to take this information into consideration or not. Even though Autochartist is a great tool, it is highly recommended to try it out on a demo account first.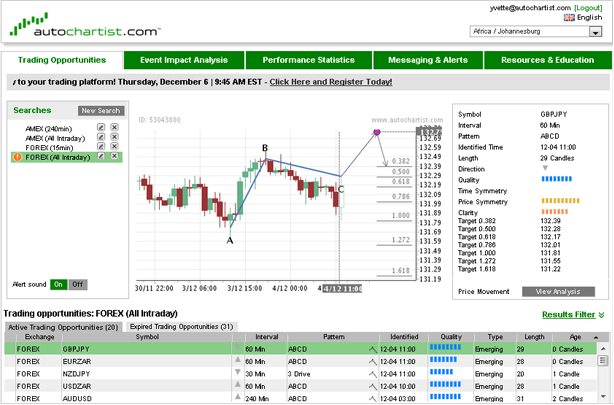 Key levels notifications:
Autochartist automatically determines the most important support and resistance levels. You will be notified once the price is about to reach the key level, allowing you to take the most out of a trading opportunity.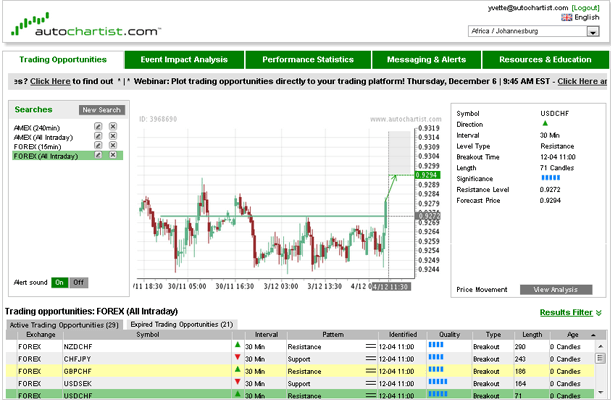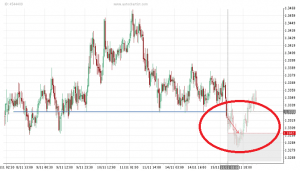 PowerStats overview:
This Forex Autochartist feature is designed for traders to follow the relative movements of Forex trading instruments. It gives a strong statistical foundation of the data and allows you to build more reliable trading strategies or modify the existing ones.
Major features of PowerStats:
A medium value of a pip move across various time frames
The probability of an upside or downside momentum (conducted from past observations)
Statistical maximum and minimum values of price (historical largest and smallest values) over different time frames
Forecasted price movements plotted over daily and one-hour time frames
As a part of free Autochartist web application, add-on helps you to set Stop Loss and Take Profit levels. That is very important for beginning traders in particular. It helps to lower the risk by choosing the most appropriate trading instruments.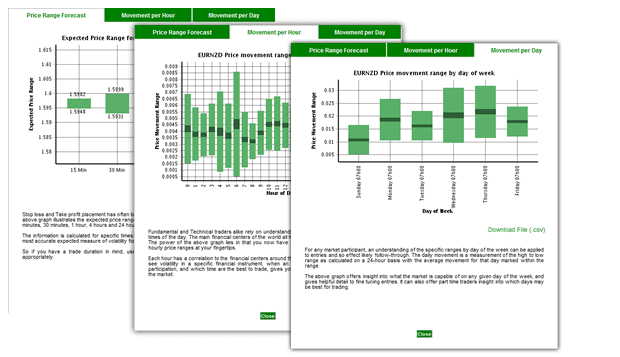 Market Reports feature:
It is not possible to pay attention to Autochartist notifications all the time. This is where Market Reports offered by Autochartist come handy. These reports are composed automatically, but their quality is comparable to the reports composed by the humans. The main difference is that automated reports are not biased and take significantly less resources to compose.
This function allows brokers to send daily reports (even white-labeled) as a form of an online newsletter. These reports are manually customised to be sent in certain languages and contain information on pre-determined trading instruments. As a matter of fact, such a report reaches a its target, a particular group of traders interested in specific instruments described in a specific language.
Another group that is interested in daily Autochartist Market Reports is money managers. Thanks to the reports, they can prove their awareness on a variability of Forex market issues. Market Reports allow them to stay up-to date with most recent events on the markets throughout the day.
In a nutshell:
Scheduled at a certain time and with a certain frequency
Can be customised for specific markets and certain instruments
Available in a variety of languages
White-labelling is enabled
Possible delivery by web-sources or e-mail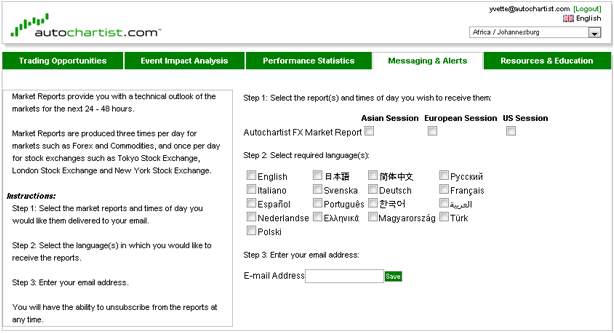 Event impact analysis tool:
Together with Econoday, Autochartist developed another innovative tool designed to read visual reports. In short, it allows traders to a better understanding of the events that influenced the market movements in past. It displays a visual representation of the impact that various events had on the different currency pairs. The event impact analysis add-on is available for download on the Econoday page. With this tool, you are able to sort the data by country and currency. This tool provides you with a great advantage and a better precision in estimating the effects of the events.