How to Trade Bitcoin CFD-s
Bitcoin's value, like that of any other commodity, will not continue to rise forever. Every trend has an end, and trading this new resource versus the Dollar gives some handy advantages over purchasing it outright. Bitcoin isn't backed by any physical asset, making it very difficult to value, other than by applying technical analysis to assist with short-term trade setups. This is where trading systems and proper money management come into play. That is your advantage over others who have yet to learn about Bitcoin CFD trading.
At this point, buying the dips would be a pretty logical choice (until proven otherwise), so we will explain how to use the current trend to your advantage (buying the dips). Before we have a look at a specific strategy, let's review other important aspects of Bitcoin currency.
The Bitcoin CFD Trading platform – MetaTrader 4
Yes, it's possible to trade cryptocurrencies via Admiral Markets, including BTC/USD. Traders can access BTC/USD and other crypto pairs using both the MetaTrader 4 and MetaTrader 4 Supreme Edition plugin. Also, all of the additional add-ons for the MetaTrader 4 Supreme Edition are now also available for the latest version of MetaTrader 5 Supreme Edition.
To download MetaTrader 4 Supreme Edition for FREE, click the banner below!



The process is as simple as the following steps:
2. Open a new account or log in;
3. Open a cryptocurrency chart (BTCUSD).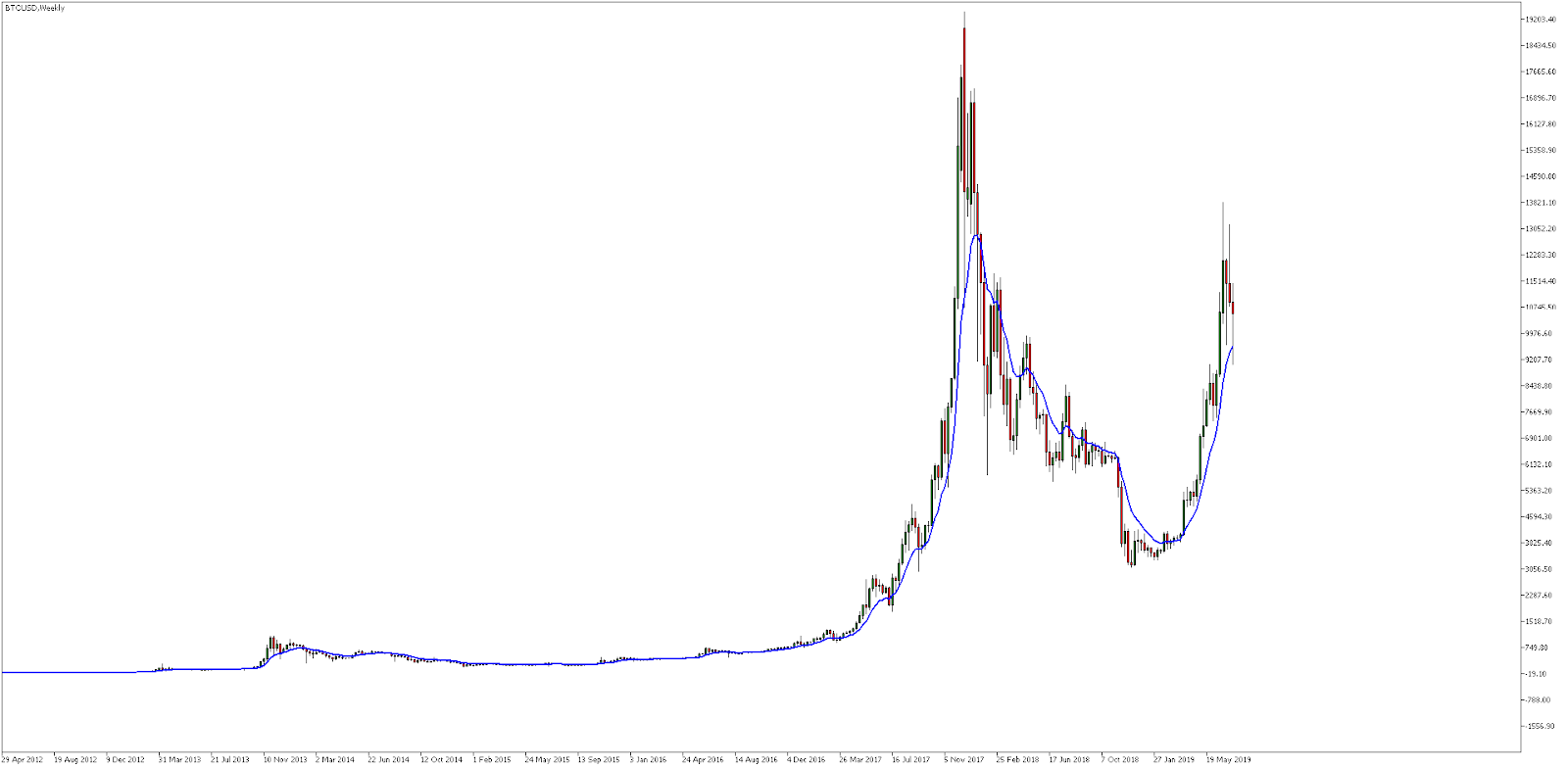 Source: Admiral Markets MetaTrader 4, BTCUSD, Weekly - Data range: from April 29, 2012, to July 18, 2019, accessed on July 18, 2019, at 9:51 pm BST. - Please note: Past performance is not a reliable indicator of future results.
What Influences Bitcoin's Volatility?
We would say that BTC is a bit volatile. Bear in mind that volatility is your friend as long as you apply proper money management. According to Forbes, Bitcoin gained popularity in China in 2013, and it was pretty common to see Chinese exchanges lead market rallies by up to 20%. It was not uncommon for individual traders to move back and forth between Hong Kong and Shenzhen, making profit through arbitrage by selling Bitcoin using smartphones on Chinese exchanges, withdrawing money through bank accounts or Alipay, and buying back Bitcoin on the Hong Kong side, where prices were more in line with international levels.
BTC showed a huge momentum, which can be easily seen on a weekly chart. At one point, the price was 2888.89. Buying BTC/USD has yielded many positive pips for traders.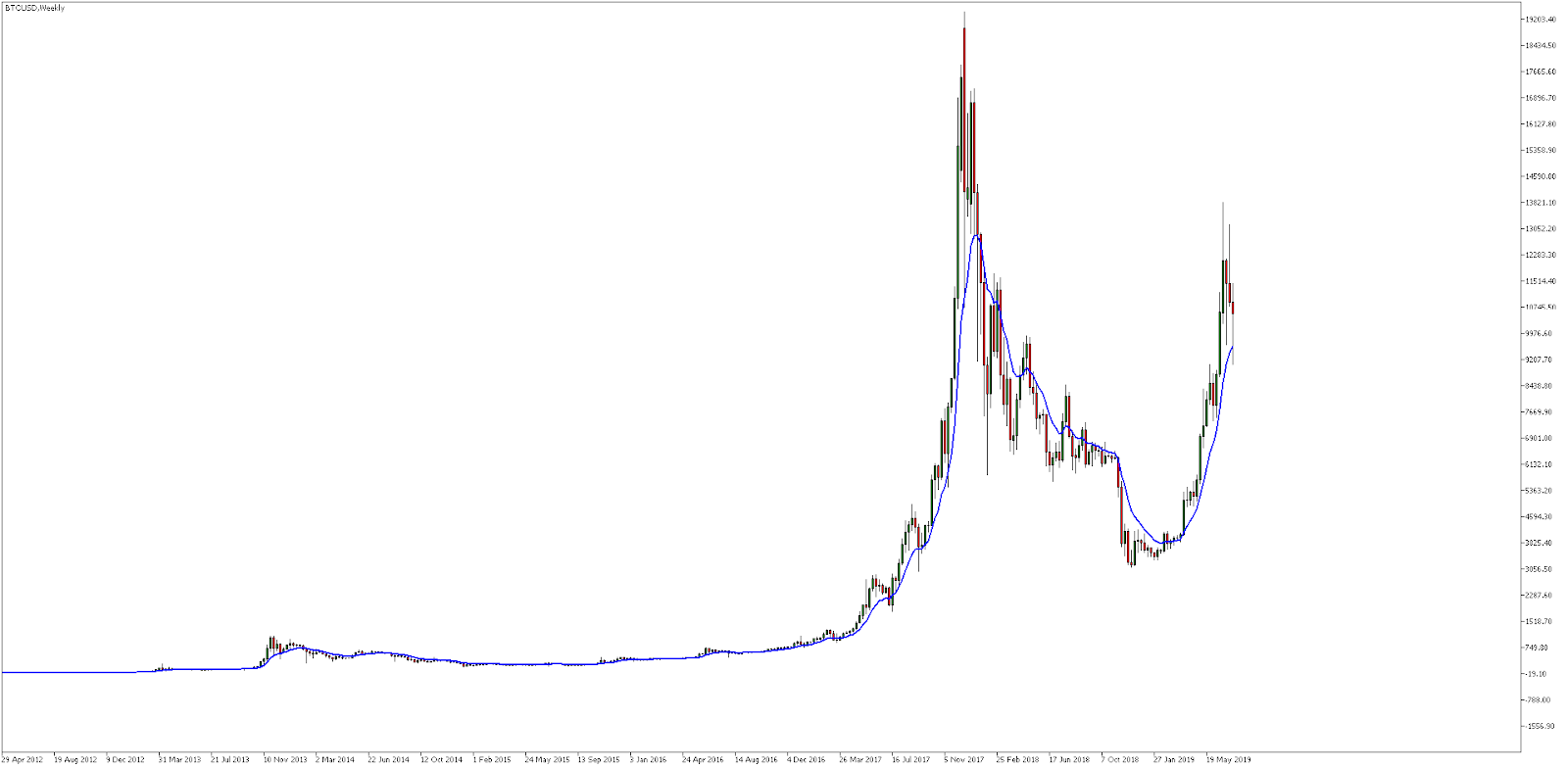 Source: Admiral Markets MetaTrader 4, BTCUSD, Weekly - Data range: from April 29, 2012, to July 18, 2019, accessed on July 18, 2019, at 9:51 pm BST. - Please note: Past performance is not a reliable indicator of future results.
Current vs. Historical Price: Trending or Ranging?
We can easily say that the price is trending, even on higher time frames. When you spot a big trend on higher time frames, it means that higher time frame momentum is also transferred to lower time frames. Accordingly, lower time frames (H1, H4) piggyback the momentum from higher time frames and theoretically enable intraday traders to enjoy massive profits. At this point, the current scenario is to buy the dips on the BTC/USD currency pair due to the established bullish trend. To always stay up-to-date with the cryptocurrencies price as well as possible movements and trading opportunities, Admiral Markets offers free live webinars with our experienced professional traders and analysts.
Due to the lack of long-term historical data, we can only compare the current moment with recent history (since 2012), but it should be more than enough to go with the flow and use various strategies that might give us much more profits than simply buying the BTC commodity itself.
How to Trade Bitcoin CFDs
Trading Bitcoin CFDs is probably not much different from trading any other currency pair, commodity, or CFD showing a strong trend. The beauty of trading lies in its diversity, and through price action studies, traders should be able to make profits that make them financially independent and stable. Bitcoin CFD traders should be focused on:
Riding the trend (uptrend until proven otherwise);
Proper money management;
Focus on the major sessions: London, New York, and Tokyo.
Buying a dip in BTC/USD is important because it gives traders the opportunity to join the market majority and ride the impulse. Of course, the trend will change, but at this point, BTC/USD is showing an exceptionally strong trend.
Proper money management is the holy grail of trading, and if applied correctly in a strong trending environment, it should theoretically make enormous ROI.
Traders should definitely be focused on major trading sessions as major trading centres provide the highest volatility in BTC/USD. Fortunately enough, our MetaTrader 4 (MT4) platform offers the instrument during the major market sessions 24/7. It should also be mentioned that you should only trade Bitcoin CFDs with a regulated Forex & CFD broker, like Admiral Markets.
Free Live Trading Webinars With Admiral Markets
Did you know that you can register for FREE to regular trading webinars with Admiral Markets? Learn directly from professional trading experts and find out how you can find success in the live trading markets. Learn about the best trading indicators, the most popular strategies, the latest news, trends and developments in the markets, and so much more! Click the banner below to register for FREE!
Bitcoin CFD Trading Strategies
It is recommended to use a scalping strategy in order to exploit volatility to your advantage. Scalping the BTC/USD pair is performed using an excellent Double MACD strategy (which is also covered in the Forex 101 course). Due to volatility and trend, this strategy is suitable for trading BTC/USD on shorter time frames, such as the m5.
This strategy for trading BTC/USD uses 2 EMAs (Exponential Moving Averages), 34 and 55, 2 Stochastics that are overlaid (8,1,3 and 13,1,3), a MACD 2Line indicator (34,89,34), or the default MT4 MACD - if you don't have the MACD 2Line, and the Admiral Markets Pivot, which is available with MetaTrader Supreme Edition.
There is also a complete template included with all indicators that you can automatically load into your MT4 with the help of the Forex 101 trading course. If you decide to use the strategy without Forex 101, this is how you can set it up on your chart:
Open your 5m BTC/USD chart
Apply 34 and 55 EMAs. Blue is the 34 EMA, Red is the 55 EMA. Both are set on close:
Add the Stochastic (8,1,3) and (13,1,3) overlaid in the same window
Finally, add the Admiral Pivot set on daily pivots
Disclaimer: Charts for financial instruments in this article are for illustrative purposes and does not constitute trading advice or a solicitation to buy or sell any financial instrument provided by Admiral Markets (CFDs, ETFs, Shares). Past performance is not necessarily an indication of future performance.
You buy BTC/USD when Blue 34 EMA is higher than Red 55 EMA.
The price needs to pullback towards the EMAs. Ideally, it should stop at the EMAs or pullback slightly below them.
The MACD is above 0 (or the MACD must show a blue histogram if you use the template from Forex 101).
Any of the Stochastics should be below 20 and pointed upwards (ideally, cross 20 from below)
The target is the next Admiral Pivot with the stop-loss below the previous swing low.
Bitcoin Day Trading Explained
For intraday trading, you might want to use our scalping strategy several times a day, or, eventually, if you have a day job and time doesn't allow you to scalp, you might want to use a day-trading BTC/USD strategy.
This strategy involves the MACD with the RSI and CCI indicators for intraday traders. To be able to apply this strategy, you will also need to download the award-winning MetaTrader 4 Supreme Edition as it requires the Admiral Pivot indicator. The Admiral Pivot indicator offers unpreceded customisability suitable for both intraday and intraweek swing traders.
Trade Cryptocurrency CFDs With Admiral Markets
Are you ready to join the growing cryptocurrency market?
Admiral Markets enables professional traders to trade 24 hours a day, 7 days a week with the EUR and crypto cross, as well as the ability to go long or short on any cryptocurrency CFDs, with no actual crypto assets required for trading. Trade CFDs on BTCEUR, ETHEUR, XRPEUR, BTCUSD, and many more! Click the banner below to open an account and start trading!
Indicators used for this strategy:
RSI (10,close)
CCI (14,typical price HLC/3)
MACD (12,26,9)
Admiral Pivot
The strategy is traded on M30 timeframe. Traders buy BTC/USD when:
MACD>O
RSI>50
CCI>0
The price is slightly above pivot point support
Stop-loss is placed below the entry point, while the target is Admiral Pivot resistance. In strong trends, this should be a winning day trading strategy for BTC/USD.
Disclaimer: Charts for financial instruments in this article are for illustrative purposes and does not constitute trading advice or a solicitation to buy or sell any financial instrument provided by Admiral Markets (CFDs, ETFs, Shares). Past performance is not necessarily an indication of future performance.

Making A Profit with BTC/USD
At this point, simply buying BTC/USD is the way to go until the trend reverses. Bitcoin is reaching new benchmarks of value in the trading market, and by using our strategies, you may be able to profit, no matter if the trend is to the upside or downside. There are many ways to potentially make a profit by trading BTC/USD, but due to strong volatility and hype, buying dips is currently the most profitable trading strategy.
Rest assured that we will provide you with the latest information should there be any changes. That is why we have regular, free live trading webinars with leading industry experts.
Trading With A Demo Account
Trader's also have the ability to trade risk-free with a demo trading account. This means that traders can avoid putting their capital at risk, and they can choose when they wish to move to the live markets. For instance, Admiral Markets' demo trading account enables traders to gain access to the latest real-time market data, the ability to trade with virtual currency, and access to the latest trading insights from expert traders.
To open your FREE demo trading account, click the banner below!

Market Sentiment – The Impact of The Hype in the Media
Ever since BTC started to lift off, the market sentiment has been astonishingly bullish, while BTC/USD has rallied to 2888.89 – a historical high. The pair started to retrace, but the sentiment is very bullish still. The media are also over-hyping the BTC currency, but the real reason might be the technology behind the blockchain. Many industries have been exploring its benefits and limits, so we might expect the real estate industry to also take on the blockchain hype. BTC has gained popularity as the world's best and most profitable cryptocurrency, with more and more people joining the network on a daily basis. This might create a bubble, and the uptrend might suddenly explode. People treat it as a commodity.
The other problem with Bitcoin lies in the fact that as the price of Bitcoin rises, it is harder to get paid in fractional units. At some point, Bitcoin will have to re-issue coins (increase supply), but mentioning that might cause panic in the market and tank it, easily.
Out of these reasons, the solution is not to mine BTC, but rather to trade it versus other FIAT currencies, e.g., USD. You will also be able to trade it and make profit, even if it starts to drop and a downtrend develops. Don't forget that through our platform, you have 24/7 access to trade BTC/USD.
Trading BTC and Other Cryptocurrencies
Besides trading Litecoin versus the US Dollar ( LTC/USD), Admiral Markets clients can also choose to trade CFDs on Bitcoin versus the US Dollar (BTC/USD), Ethereum vs the US Dollar (ETH/USD), and Ripple vs the US Dollar (XRP/USD).
Traders need to download MetaTrader 4, which grants them access to the market and/or allows them to follow price action on charts. The process is very quick and simple, so you'll be ready to go in no time. In the end, Bitcoin might not be the undisputed cryptocurrency, the trend can always change or reverse, but the invention of Bitcoin has certainly changed the world forever!

About Admiral Markets
Admiral Markets is a multi-award winning, globally regulated Forex and CFD broker, offering trading on over 8,000 financial instruments via the world's most popular trading platforms: MetaTrader 4 and MetaTrader 5. Start trading today!

Disclaimer: The given data provides additional information regarding all analysis, estimates, prognosis, forecasts or other similar assessments or information (hereinafter "Analysis") published on the website of Admiral Markets. Before making any investment decisions please pay close attention to the following:
The analysis is published for informative purposes only and are in no way to be construed as investment advice or recommendation.
Any investment decision is made by each client alone whereas Admiral Markets shall not be responsible for any loss or damage arising from any such decision, whether or not based on the Analysis.
Each of the Analysis is prepared by an independent analyst (hereinafter "Author") based on the Author's personal estimations.
To ensure that the interests of the clients would be protected and objectivity of the Analysis would not be damaged Admiral Markets has established relevant internal procedures for prevention and management of conflicts of interest.
Whilst every reasonable effort is taken to ensure that all sources of the Analysis are reliable and that all information is presented, as much as possible, in an understandable, timely, precise and complete manner, Admiral Markets does not guarantee the accuracy or completeness of any information contained within the Analysis. The presented figures refer that refer to any past performance is not a reliable indicator of future results.
The contents of the Analysis should not be construed as an express or implied promise, guarantee or implication by Admiral Markets that the client shall profit from the strategies therein or that losses in connection therewith may or shall be limited.
Any kind of previous or modeled performance of financial instruments indicated within the Publication should not be construed as an express or implied promise, guarantee or implication by Admiral Markets for any future performance. The value of the financial instrument may both increase and decrease and the preservation of the asset value is not guaranteed.
The projections included in the Analysis may be subject to additional fees, taxes or other charges, depending on the subject of the Publication. The price list applicable to the services provided by Admiral Markets is publicly available from the website of Admiral Markets.
Leveraged products (including contracts for difference) are speculative in nature and may result in losses or profit. Before you start trading, you should make sure that you understand all the risks.