How to Become a Successful Forex Affiliate Marketer
Are you new to Forex affiliate programs and trying to figure out how it all works? Setting up a Forex-related site and unsure how to monetise it? Perhaps you're wondering how to make money through affiliate marketing, or sceptical about how much it's possible to make?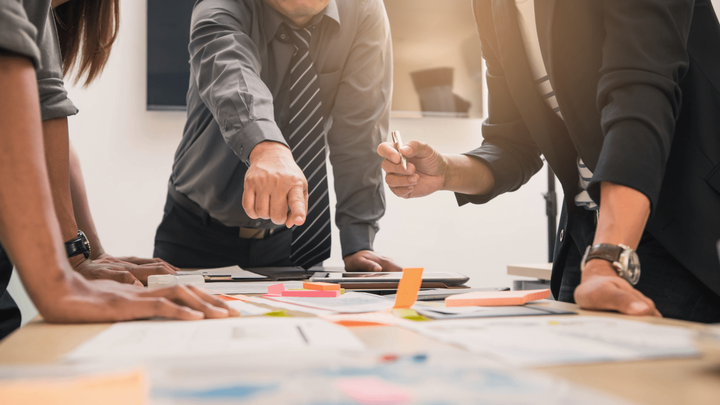 You're right to ask these questions. While Forex affiliate marketing certainly can be a lucrative endeavour, it takes skill and persistence to make it so - especially if you don't yet have a substantial presence online. This article aims to clear up any confusion and lay out exactly what you need to do to become a successful Forex affiliate marketer, no matter what stage you're at now.
What is Forex Affiliate Marketing?
Put simply, affiliate marketing is when you promote a product or service offered by someone else and earn a commission if they make a purchase as a result. In a Forex context, that means linking to an external broker's site or trading platform. If one of the people who clicks on your link signs up, you're then paid a commission based on the size of their deposit, or a percentage of the trades they make going forward. These payment structures vary widely, though - more on that here.
To complicate matters, "Forex affiliate program" is sometimes used as a catch-all expression for several different types of partnerships, including those where you introduce individual people in your network to the broker.
In this article, we'll look specifically at classic Forex affiliate marketing examples, whereby you place referral links on your website or disseminate them to your audience. That said, if you'd like to learn more about how Forex referral schemes work, click here to learn about Admiral Markets' Introducing Business Partner program.
Can You Really Make Money From Affiliate Marketing?
In a word: yes. It is possible to make money with affiliate marketing and many people do precisely that.
There's a caveat, though. You need to be realistic. Unless you a) run a site with extremely high levels of traffic or b) are willing to put significant effort into making the venture a success, this probably isn't going to take over as your primary source of income. It's more sensible to treat it as a bonus: a promising supplementary income stream that, if done well, can bring a high return on a relatively modest investment of time.
How to Become a Great Forex Affiliate Marketer
While affiliate marketing is often billed as a passive income generator, you will see far better results by putting in a little extra work to bring your referral links to the attention of your audience. Here's a tried-and-tested, 10-step strategy to help you get the most out of your Forex affiliate programs.
Step 1: Set Yourself Up as an Authority
Note: if you've already built up a great site with a well-engaged audience, jump to Step 3.
The difference between affiliate marketing and simply hosting ads on your website is that, as an affiliate marketer, you're advocating for the product. You personally are telling your audience that this Forex broker is worth their time.
That means your audience needs to have a reason to trust your opinion on the matter. You need to demonstrate your understanding of Forex trading or investment finance generally, providing advice and analysis and emphasise your credentials. It helps to establish a clear, helpful and decisive voice.
Step 2: Build a Presence as a Forex Authority
Without a decent following, you'll struggle to refer anyone to the Forex broker. Not only does this mean you won't be a particularly attractive partner for brokers, you also won't be able to make much money as a Forex affiliate.
Again, a lot of this comes down to the quality of the content you produce. You also need to post content regularly enough to keep people engaged with your site and with your social media profiles, not to mention to boost your rankings in search engines like Google.
Think carefully about the topics people want to hear about and focus on the problems they want resolved. Pay close attention to your SEO to encourage inbound traffic to your site or blog, and plug your articles extensively through social media channels.
If you're a whizz with SEO, it's also possible to build a site purely around reviewing products in your niche, which we'll explore in the next section.
Step 3: Write Reviews about Trading Products and Platforms
Before you seek out a Forex affiliate program, it makes sense to start writing reviews of Forex or trading-related products and platforms on your site.
This is an effective tactic for three reasons:
Your readers get used to seeing reviews on your site, so it won't seem out of place when you promote or align yourself with a particular broker.
It's a great way to incorporate keywords and common search terms into your copy without it feeling unnatural or jarring. People often search for comparisons or "which is better?" questions, so writing reviews that compare different Forex trading platforms or brokers is an excellent way to attract new readers.
You target readers are actively looking to try out Forex trading, which makes it a far easier job to persuade them to opt for the broker you're partnering with.
Step 4: Start Collecting Email Addresses
Building an email list is a smart way to ensure you have a direct line of communication to your audience when you want to promote something in particular. Basically, you're laying the groundwork now for your Forex affiliate marketing efforts later. Consider embedding a pop-up subscription form to your site. Even better, create gated content, i.e. top quality content that is free, but for which people need to enter their contact details before they can download it.
Even if you only get a few hundred email addresses, these are extremely valuable. Conversion rates are vastly better for personalized emails than for website copy. If you're smart about how you approach these people, they could be your most profitable prospects. Please familiarise yourself with General Data Protection Regulation (GDPR) requirements as well, because those also apply to email marketing in Europe.
Step 5: Sign Up to a Forex Affiliate Program
You're now ready to take the leap and choose the right Forex affiliate program for you - both in terms of the broker and the commission structure that will work best for your circumstances. Given that this is a very important task in its own right - please take a look at our in-depth guide to choosing the right Forex affiliate program.
Step 6: Embed the Forex Affiliate Link on Your Site
You now have everything you need to start generating commissions as a Forex affiliate marketer. Your broker will have given you a unique referral link (and, if they're worth working with, a complete package of marketing materials, banners, widgets and so on). You just need to figure out where on your site to put it.
Be smart about this. It makes sense to add the link to reviews and any other articles that mention the broker by name. You could also decide to write a dedicated article specifically promoting the trading platform, to create a demo or review video with an accompanying link, organise a webinar talking through how the site works and/or add a button or header to your whole site. The trick is to increase exposure without overdoing it. You don't want to look too pushy.
Step 7: Promote the Link to Your Audience
It's possible to leave things there and wait for people to click, but if you really want to make money out of affiliate marketing, it's advisable to go the extra mile. This is the time to let your email list know about the broker you're affiliated with. Craft a clear and engaging email outlining the benefits of the Forex broker and why you think it would be a good choice for your readers.
Remember too that financial tools like these are (rightly) heavily regulated. Your broker should provide you with plenty of email templates and sample wording to ensure that the information you share with your audience is accurate, transparent and compliant with industry rules
Step 8: Promote the Link to a Wider Network Using PPC Advertising
If you're looking to widen your net of referrals, consider budgeting for a pay-per-click advertising campaign using your referral code. Online advertising networks provided by Google, Facebook and other publishing giants tend to give you a lot of control over exactly who you want your ads to reach, while giving you plenty of flexibility to try out different ads at very low cost. A small investment could go a long way.
Step 9: Collect Your Affiliate Commissions
Now you've done all you can to promote the links, all you need to do is sit back and wait for your share of the money to come in. Hopefully (if you've taken our advice on board!) the broker you work with will have an intuitive, easy-to-navigate partner platform where you can track how many referrals you bring in, how much they deposit and trade, and how much you're earning in commissions, all the way through the process.
Step 10: Review and Improve
If you're serious about generating income from Forex affiliate programs, there is one more step:
Again, if you're working with a top Forex affiliate program, you'll have access to a platform that helps you monitor performance and track ROI. Use this to figure out what's working well and what could be improved, from the channels you used to promote your referral links through to the kinds of people you targeted in your advertising and marketing campaigns.
Once you have a clear picture of this, you can use your findings to hone your approach, try new angles, cut out the methods that didn't work, and keep improving your ROI.
Final Thoughts: Successful Affiliate Marketing in a Nutshell
While it sounds counterintuitive, the most successful Forex affiliate marketers are those that don't fixate too heavily on the actual sale. Instead, they're constantly figuring out how they can offer something of value to their audience or network, viewing the transaction from the customer's point of view rather than their own.
Remember that people don't buy or invest because you want them to. They do it because you've persuaded them that they want to. The good news is, though, that as an affiliate marketer, you're approaching the conversation as a mentor, educator and industry leader, rather than as a straightforward salesperson. That's half the battle.
While Forex affiliate programs can offer excellent return on investment, don't fall into the trap of thinking you don't have to do anything. You need to be patient, persistent and creative in coming up with new and better ways to communicate with your audience in order to reap the biggest benefits.
Admiral Markets offers individuals such as yourself the opportunity of becoming a partner through several different affiliate programs, meaning that by helping us to introduce our trading services to your network, we will boost your income and reward you with a variety of additional benefits!
We offer several different partnership options, such as our Introducing Business Partner program, that offer various benefits to your day to day trading experience, as well as, excellent promotional tools, 24/7 access to the Partner Portal, advanced analytics tools and access to exclusive features designed especially for Admiral Markets partners. To learn more and to start earning an income through affiliate marketing with a global, award-winning, regulated broker, click the banner below!
About Admiral Markets
Admiral Markets is a multi-award winning, globally regulated Forex and CFD broker, offering trading on over 8,000 financial instruments via the world's most popular trading platforms: MetaTrader 4 and MetaTrader 5. Start trading today!

This material does not contain and should not be construed as containing investment advice, investment recommendations, an offer of or solicitation for any transactions in financial instruments. Please note that such trading analysis is not a reliable indicator for any current or future performance, as circumstances may change over time. Before making any investment decisions, you should seek advice from independent financial advisors to ensure you understand the risks.