Online trading - How to become a successful trader?
March 17, 2021 13:55 Europe/Tallinn
Table of Contents
What is the meaning of "online trading market"? Online trading is, simply put, trading performed on the internet. Traders and investors buy and sell financial instruments via a web-based trading platform offered by a broker or a bank. Trading decisions are made on the trading platform and then instantly sent to the broker, which is why an internet connection is needed (hence the reference to online trading).
Online trading has grown substantially since the 1990s due to advances in affordable high-speed computers and internet connections:
Internet: the growth of the internet is staggering, as the global statistics show. People are now using the internet for trading purposes as well.
Computers: Moore's law indicates that the overall processing power for computers will double every two years, which allows traders to connect quickly to the internet, and allows them to conduct analysis on their own personal computer.
These two trends have facilitated the rapid growth of online trading, and have democratised access to the financial markets in a way that we have never seen before. For example, the Indian online trading market size, in terms of market cap, taking into account both the Bombay Stock Exchange (BSE) and the National Stock Exchange (NSE), amounts to $4.6 trillion (about $2.3 trillion each).
More and more people are now able to trade online, and this trend seems like it will only increase exponentially in the future, when you consider the fact that over 1.7 billion people with mobile phones remain excluded from the financial system. Online trading offers a long list of benefits when compared to the pre-internet era of telephones, telegrams, and faxes.
Who is a Trader?
The profile of the typical trader can be defined in 3 different but complementary categories:
Analyst: They analyse the context in which a particular instrument is located, using fundamental analysis and technical analysis, although it is common to see that traders normally only use one of these two analyses.
Trader: They buy and sell instruments such as CFDs for profit, with the profit (or loss) being the difference between the purchase and sale price of trading positions.
Risk manager: The trader must manage the risk they assume in the markets to remain profitable and continue his activity.
A trader is, first and foremost, a professional in the financial markets. A trader studies and understands market operations and how to interpret and read market fluctuations and how to benefit from them.
Benefits of Trading
Before the arrival of the internet, traders and investors had to take care of all their transactions and requests via mail, telephone, and fax machines. Traders then had to make a buy or sell decision via the telephone with their broker. The process was slow, as brokers needed to confirm the transaction details such as price, quantity, type of trade, length of trade, exit price, the account specification, and more.
It is not only the ease of trading that has substantially improved, but also the simplicity and quality of tools, indicators, and methods of analysis. In the past, traders needed to construct a chart on paper, and even when computers initially became more accessible, traders needed to manually calculate many of the indicator levels and values.
Online trading platforms also allow for a wide range of order types, which can all be set up by yourself instantly, with the broker of your choice.
The wide variety of order types is a benefit because it allows traders to prepare a precise trading plan:
Buy limit order (buying below current market price)
Buy market order (buying at current market price)
Buy stop order (buying above currency market price)
Sell limit order (selling above current market price)
Sell market order (selling at current market price)
Sell stop order (selling below currency market price)
Stop-loss for exiting at a predefined level with loss
Take profit for exiting at a predefined level with profit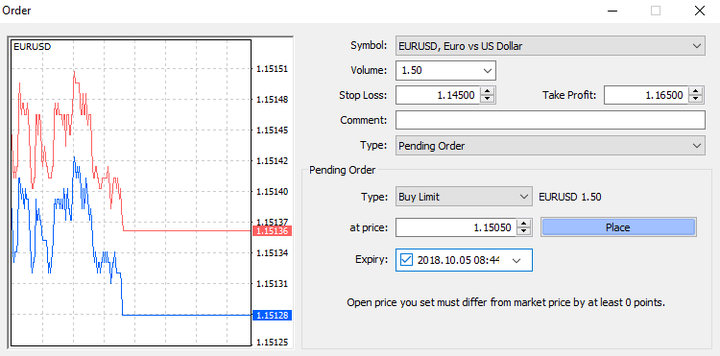 Source: Admiral Markets MT5 with MT5SE Add-on - Performed on October 5, 2018, at 6:00 AM GMT. Please Note: Past performance does not indicate future results, nor is it a reliable indicator of future performance.
The last important benefit is that there are no restrictions on which strategy traders use. They can choose any trading strategy they prefer. Here is a summary of trading styles:
Renko bars and other chart types
Some of these trading styles seemed unimaginable a few decades ago when a call to the broker was still needed.
If you feel comfortable getting started and trying your hand at trading in a risk-free environment, click the banner below and open a FREE demo account, and download the MetaTrader trading platform!

Instruments and Markets That Can Be Traded
Online trading has revolutionised the world of trading and has made more financial instruments accessible to more people than ever before. Let's use Admiral Markets as our example broker and review their products:
Forex (Foreign Exchange) market
Trade currency pairs like the EUR/USD, USD/GBP, and USD/JPY
Trade CFDs on commodities like Gold, Crude Oil, and energy
Trade CFDs on the DAX30, NASDAQ, and others
Trade CFDs on the top stocks, like Apple, Tesla, and BMW. Shares are typically used for online trading and investing over the long term.
As you can see, there are seven different categories. Each segment has a list of instruments that traders can analyse and trade. The Forex market (or FX), for instance, consists of dozens of currency pairs, which are split into:
Forex Majors
The EUR/USD currency pair
The GBP/USD currency pair
The USD/JPY currency pair
Forex Minors (or minor currency crosses)
The EUR/JPY currency pair
The GBP/AUD currency pair
The GBP/JPY currency pair
Finally, there are also 'Exotic Pairs' (also known as local pairs) such as the EUR/NOK currency pair, the NZD/SGD currency pair, and the USD/HUF currency pair. Of course, these are just a few examples, and there are many, many more available to trade on! Other popular financial instruments are Gold CFD, Oil (WTI) CFD, DAX 30 CFD, share CFDs such as Facebook, Google, and BMW and trading commodities on the online trading commodity market.
Source: Screenshot displaying some of the products available to trade with on Admiral Markets' website - Performed on October 5, 2018, at 6:00 AM GMT. Please Note: Past performance does not indicate future results, nor is it a reliable indicator of future performance.
What to Look for in a Trading Platform
An online trading platform should offer traders a simple way to trade and access the financial markets. Traders also need the platform for other tasks too. Here is an overview of the tasks traders will need to carry out:
Entering and exiting setups
Performing chart analysis
Changing or adding instruments for analysis
Keeping track of open and close trades
Switching to multiple accounts quickly
Using multiple profiles for different types of analysis
Access to support and discussion forums and communities
Reliability and stability of the platform. Will it crash during high-frequency trades?
Equity trading possibilities
As you can see, it's not only about opening and closing trades. A good trading platform will offer much more than that.
Something else to look for in an online trading platform is a thriving community, which not only provides tutorial information, but also technical troubleshooting and support. The most widely used the platform is, the larger and more helpful the community.
Popular trading platforms that are based on open and available coding languages often lead to strong independent development of expert advisors and plugins. Each of these can help traders improve or make more efficient their strategy and trading plan. Some of these can be found for free within the communities, while others are developed by experts and sold for a fee.
In any case, it is important to review a platform before using it, to make sure that it offers what you expect and what you need to make your trading life as efficient and successful as possible.
Two good examples of online trading platforms that offer the features listed above are MetaTrader 4 (MT4) and MetaTrader 5 (MT5). You can learn more about how the MetaTrader platforms work in the video below.
These platforms are especially good for Forex and CFD trading. The MetaTrader platform offers a charting platform that is not only easy to use but also simple to navigate. If you want to learn more about trading, trading strategies, how to use trading platforms and more, we would recommend checking out our articles & tutorials.
Additionally, we also offer traders the ability to learn from professional trading experts with our FREE live trading webinars. To view our upcoming webinars, and to sign up for FREE, click the banner below!
The Best Platform for Forex and CFD Trading
What is the best stock trading website for beginners? A good option for trading Forex and CFD instruments is the MetaTrader Supreme Edition (SE) plugin for MetaTrader 4 and MetaTrader 5, which offers a wide range of financial instruments including Forex, CFDs, CFDs on commodities, and stock indices.
You can download the platform to your desktop or to your mobile device, where it can serve as your online market trading app. You can also use the web terminal. Some brokers even go a step further and offer their own customized tools on top of the standard features and items offered by MT4 and MT5.
The SE offers a wide range of extras such as:
Mini terminal
Trade terminal
Global opinion
Indicator package offering pivot points, renko and the keltner channel
Tick chart trader
Trading simulator
Mini charts
and much more.
Source: Admiral Markets MetaTrader 5 (MT5) Supreme Edition, displaying GBP/USD Daily chart with the MTSE trade terminal. Disclaimer: This chart is for illustrative purposes and does not constitute trading advice or a solicitation to buy or sell any financial instrument provided by Admiral Markets (CFDs, ETFs, Shares). Past performance is not necessarily an indication of future performance.
Click the banner below to begin exploring and trading all the possible Forex currency pairs and other instruments you can trade, and take advantage of a FREE download of the MetaTrader Supreme Edition platform!

How to Choose a Broker for Successful Trading
What is the best online trading company? There are several trading brokers to choose from. The list includes Admiral Markets, Indira Securities, Reliance, Scope Markets global online trading and more. If you have confidence in your Forex broker, you will be capable of devoting considerably more time and precious attention to analysis and developing various FX strategies.
Researching prior to committing to a specific broker can go a long way, and can improve a trader's odds of being successful in the competitive foreign exchange market.
With that in mind, when it comes to online Forex trading and CFD trading, as well as dealing with Forex brokers and CFD brokers, there are a number of elements to consider. These include:
Is trading online safe? To answer this question, we must ask ourselves if the broker is reputable and regulated. Some things to look for are financial licenses and industry awards to ensure your online trading is safe.
Does the broker offer fast, reliable trading software, that will support your trading strategy?
Do they offer a wide range of markets? Some online brokers only offer one market, such as Forex or stocks, so it's important to look into this if you want to trade more than one market.
Do they offer support, education and training to help you succeed as a trader? This might include articles, webinars, courses and more.
What are the costs of trading? A good broker should be transparent about their online trading costs, and those costs should be competitive.
In case you hadn't realised, Admiral Markets is an online trading broker. We're regulated around the world by the FCA, EFSA, CySEC and ASIC and have won over 30 awards for our offering, trading platform and service.
Admiral Markets offers over 8,000 unique instruments to trade, with industry-leading offers in spreads, low commission, as well as negative balance protection in order to give clients the best possible experience and chances for success.
At Admiral Markets, we also offer extensive educational resources, such as free webinars where you can learn to trade from the experts, successful professional traders discussing market movements and the fundamentals of trading. As well as an extensive library of educational articles for you to learn every detail, strategy, and fact about the industry and market.
Finally, we keep our costs of trading - which include spreads, commissions and swaps - competitive, with our typical trading costs being some of the best in the industry.
These are just some of the reasons why over 100,000 traders have chosen Admiral markets as their broker. Will you be next?
Or, if you're still searching for the best online trading broker to meet your needs, you can take a look at our in-depth guide to choosing a broker here.
How can I learn trading?
Education is one of the most important factors in becoming a successful trader.
What is the best site for stock trading or forex trading for beginners? There are many online trading education sites out there that offer different strategies and methodologies. Which one is best for you?
Just as with trading, there is no right or wrong answer but simply you have to find what suits you best! This requires trial and error, doing your own research and using your senses to find out!
How to choose an online trading academy?
It has to have a good reputation and reliable reviews either on Trustpilot or you can find out simply by Googling.
Cheap or not? It should not be very cheap because psychologically if we as human beings don't invest in something, then we tend to not value it as much and could give up our educational journey before it starts paying dividends.
It should be focused on either one of them - either the trading site for beginners or for advanced level is for Forex or online Stock trading.
What is meant by online trading? - There are hundreds of different methodologies and ways people can see the market. The site should clearly indicate what they are focusing on - it can be anything from trading patterns, support and resistance or just price action.
Do they offer a free trial? This could be something that can be beneficial for both sides - the educational provider can provide free value and you as a potential customer can find out if this is interesting to you or not.
Steps: How To Start Online Market Trading
There is no shortage of trading advice available when you browse the internet. Almost everyone has an opinion on what the most important steps and critical tips for succeeding as a beginner trader are. It is difficult to bundle all of that wisdom, experience, and knowledge into just a few tips, but we attempted to highlight the ones that are mentioned frequently.
Step 1: Create a Trading System
The first step is to develop a trading system and plan. A trading method helps you to understand when to trade and when not to trade. It also helps you to organise your thoughts and your approach, so that you can become more consistent.
Keeping track of your trading ideas, how your analysis worked out, and how your trade setups performed in general is a vital way of collecting feedback. This in turn allows you to learn from your mistakes and improve your methods.
Step 2: Set up Proper Risk Management
The second step is to understand the benefits of using risk management. After you finish testing your systems and trades on a free Demo trading account, you can then take the next step, and trade with real money. Traders are sometimes unaware of the risks when they start trading. For instance, some traders do not use a stop loss, which is critical because it allows traders to limit the risk per trade.
Another problem is that traders take too much risk, and may potentially use too much leverage for their setups. Traders who use low levels of risk are better equipped to survive drawdowns (losing streaks) when their systems go through weaker periods. Smaller losses may lead traders back into positive territory quicker when their strategy starts to perform better again.
Step 3: Match your System with Your Trading Style and Preferences
Traders tend to be unsure which methods suit them the best. They tend to switch trading styles and try out different methods. This is fine at the beginning because traders need time to find a style and approach that connects well with them.
It is important to realise that a strategy that works well for 'Trader A' is not necessarily suitable for 'Trader B'. For instance, 'Trader A' might get the best results with scalping but 'Trader B' could have too little time to trade in the same way.
When trading the markets online, keep in mind that it is important to know the following things:
Your financial goals in the short and the long-term
A risk appetite you feel comfortable with
How much time you can allocate to trading
How many strategies you can monitor and implement
Why and how are you motivated by trading
Which trading style, which tools, and which indicators you like to work with
Step 4: Try Trading Online with a Demo Account
Traders do not need to take any risks from the very start. They can test and try out all kinds of online trading ideas, analysis, strategies, indicators and methods via a simple Forex Demo account, which allows you to experience the financial markets and trade with no risk on your side. It's a useful first step for beginner traders. To get started with a FREE demo trading account, click the link below!

About Admiral Markets
Admiral Markets is a multi-award winning, globally regulated Forex and CFD broker, offering trading on over 8,000 financial instruments via the world's most popular trading platforms: MetaTrader 4 and MetaTrader 5. Start trading today!
This material does not contain and should not be construed as containing investment advice, investment recommendations, an offer of or solicitation for any transactions in financial instruments. Please note that such trading analysis is not a reliable indicator for any current or future performance, as circumstances may change over time. Before making any investment decisions, you should seek advice from independent financial advisors to ensure you understand the risks.