Best Automated Forex Trading Software [2021]
February 04, 2021 11:25 UTC
Automated trading now accounts for the majority of orders executed in Forex: in the US alone, about 70% of daily transactions are made by automatic trading software!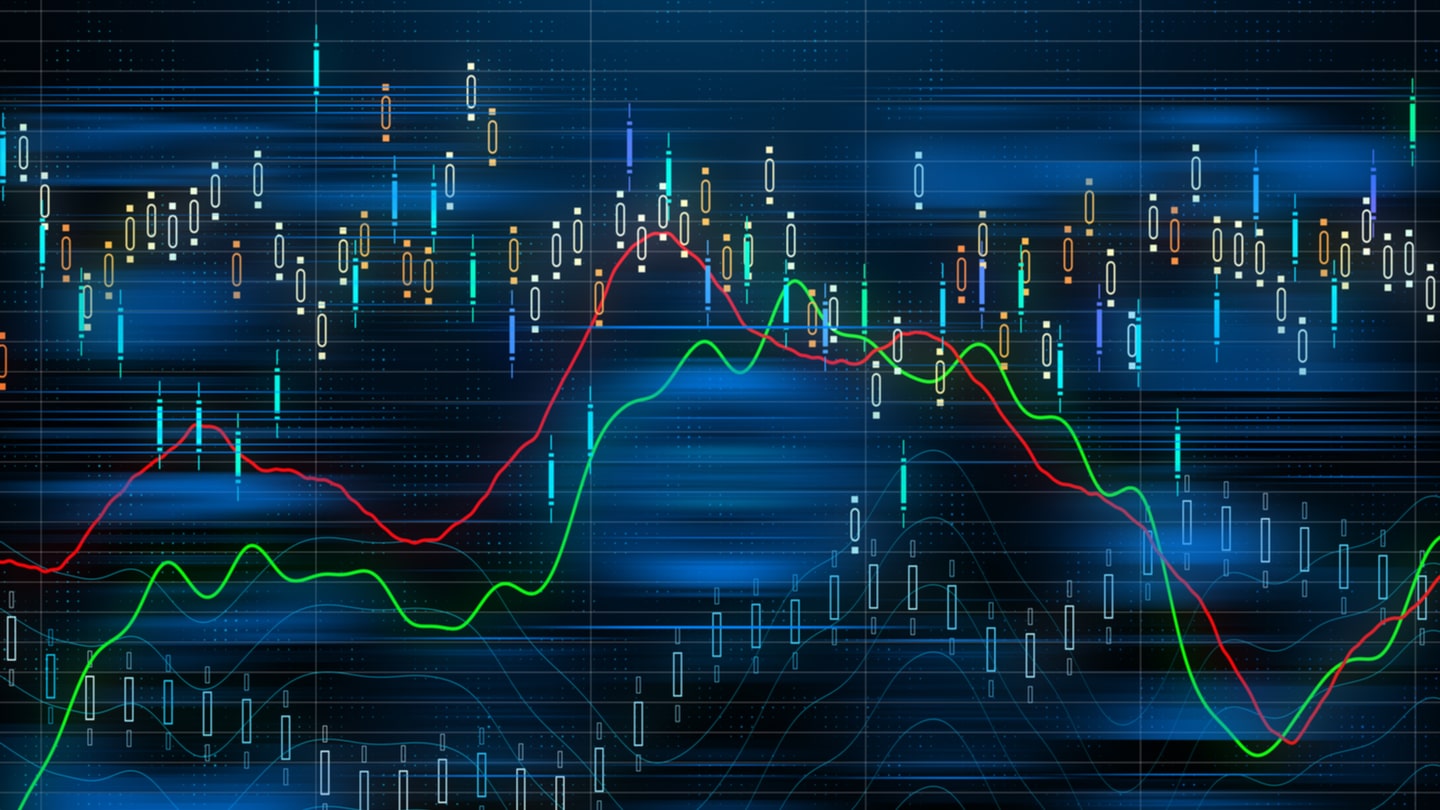 Why? If you've done much Forex trading, you'll know how exhausting trading can be, especially if something goes wrong. There are traders who dream of a partner who is intelligent, not exposed to emotions, logical, always looking for profitable trades, and who can execute those trades almost immediately. If you're looking for all of that and more, look no further - these qualities also describe automated trading software.
Automatic trading software can be used to trade a range of markets, including Forex, stocks, commodities, cryptocurrencies and more. The software simply analyses the market, and opens a trade so you don't need to carry it out manually. In a nutshell, with automated software you can turn on your trading terminal, activate the program and then walk away while the software trades for you.
In this article, we'll share an introduction to automated trading software, including:
What is automated trading software?
How how automatic trading software works
Who can use auto trading programs
The advantage and disadvantages of Forex trading programs
Different financial markets for auto trading software
How to start automated trading
And much more!
What is automated trading software?
Before we can cover what automated Forex software is, we need to start with the basics: What is automated trading?
Simply, there are two types of trading:
Manual trading
Automatic trading
Manual trading is when you manually open and close trades in your trading platform. Automatic trading, on the other hand, is when a software program analyses the market and places a trade based on predefined parameters.
Automated trading software, also known as Expert Advisors or EAs, can open and close trading positions without human intervention. Some automatic software uses technical analysis to make algorithmic trading decisions, while others use economic news to place orders.
How does automated trading software work?
Automated Forex trading software analyses market information in order to make trading decisions. This information might include currency price charts, economic news and events, spread fluctuations, and other market activity.
By analysing this data, using criteria that has been programmed by the trader, the software identifies trading signals and generate a purchase or sell alert based on those criteria. On this alert, the software can be programmed to automatically carry out the trade.
In summary, the functions Forex auto trading software can carry out include:
Market analysis, including technical analysis and fundamental analysis based on your trading strategy
Opening trades automatically when the specified conditions are met
Closing open positions according to the specified conditions (take profit, stop loss, reversal ...)
Risk management, through limiting the size of open positions or the number of open positions you have at any one time
If you have a Forex trading strategy with an automated approach, you can program your automatic trading software to analyse and trade the markets 24 hours a day, which allows you to seize all potential trading opportunities.
Having said that, although trading algorithms can be great tools, keep in mind that using Forex trading program does not guarantee a profit. The results will depend on the strategy used, and a winning strategy may become a loser if market conditions change.
Are you ready to start automated trading? Then you can try out a range of different tools FREE with Admiral Markets?
How? The process is simple:
Sign up for a free demo account.
Download and install MetaTrader 5.
Download and install MetaTrader Supreme Edition.
Open MetaTrader on your computer, and sign in using your demo account details.
Then you can start using free Expert Advisors to see how automated trading works!

Who can use automated Forex trading software?
Hypothetically, newbies, experienced professional traders and seasoned Forex traders can benefit from using FX trading software to make their trading decisions.
In fact, automated trading software is available for a wide range of prices with varying levels of sophistication to meet different needs. Fortunately, most programs offer a free demo period along with other incentives to buy, which gives you the opportunity to see if a Forex trading program is a good match for you.
What are the advantages of automated Forex trading programs?
Now that we've covered how automated trading software works, what are the benefits of using tools like this?
The first advantage of automated trading programs is the removal of emotional and psychological influences when trading. Automated software makes your trading decisions consistent and unemotional, exploiting parameters you have pre-defined, or the default setting you have previously installed.
Many traders - both beginners and experienced - often make trades for emotional reasons. They see there is a lot of activity in the GBP/USD, for example, and they don't want to miss a potentially profitable trade. Or they see a trade going badly, and manually close it before their strategy says they should. With automated trading, emotional decisions and lapses of judgement do not happen.
Automated software pushes you to clearly set out your trading strategy, rules and objectives in order to program the algorithm, so this forces you to set rules and stick to them!
Next, for currency speculators who make trades based currency spreads, auto Forex trading software can be effective. This is because price discrepancies are instantaneously apparent, the information is immediately read by the trading system and consequently a trade is executed.
Additionally, automated software programs also enable traders to manage multiple accounts at the same time, which is a real plus that is not easily available to manual trades on a single computer. This allows you to seize many opportunities simultaneously, along with running complementary strategies at the same time. For instance, with the right software you could run a scalping strategy and a different day trading strategy for the same financial asset.
For serious Forex traders who have other interests, occupations, or obligations, automated software or an automated Forex trading robot can save considerable time that could otherwise be devoted to other important activities such as studying the markets, analysing different charts, or watching for various events that influence currency prices.
Automated FX trading systems allow you to free yourself from your computer monitor, while the software scans the market, looks for trading opportunities and makes trades on your behalf.
In addition, MetaTrader 4 & 5 applications on iPhone, Android and tablet allow you to easily monitor your trading account wherever you are.
One final benefit of Forex auto trading software is that the marketing incentives to buy specific packages, which might give you extra tools for trading.
While there are many benefits to trading with automated trading software, keep in mind that this is not a recommendation on our part to use automatic trading.
What are the disadvantages of Forex auto trading?
As with any tool, automated Forex trading software comes with disadvantages as well as benefits. Some of these include:
Scams related to the sale of autonomous trading software - not every program out there will perform the way you want it to, which can make it easy to spend money with no benefit.
Lack of knowledge in computer and algorithmic programming - given the previous point, it's important to understand how your automated trading program works. If you don't have strong programming or computer knowledge, you might struggle to get the most out of auto trading.
The financial cost of using a professional coder - if you can't code, you can hire people to create Forex and currency trading programs for you. However, these people can get expensive quite quickly.
The lack of systematic trading training - beyond programming knowledge, it's also important to have a clear trading system for the trading bot to follow. If you don't, then you will struggle to see the benefits of automated trading software.
These are the four most common challenges faced by beginners to automated trading. If you are an experienced auto trader, you may encounter other difficulties related to advanced trading strategies.
Remember to take into account these considerations when creating your trading strategy and your algorithm! This will save you some nasty surprises.
Which financial markets are the best for using automated trading software?
Automated trading programs are not all made equal, and it's important to consider the markets you want to trade when choosing the right one for you. In particular, it is important to apply your strategy in markets that are more likely to provide good trading conditions, but also constant movements on a regular basis.
In our experience, auto traders trade three major markets: Forex, indices and cryptocurrencies. In the following sections, we'll share the advantages of using automated trading for trading these three markets via CFDs ( Contracts for Difference).
Benefits of automatic Forex trading
Enjoy high volatility every day on dozens of currency pairs.
Get 24/7 continuous quotes, trade any time of day and night.
Take advantage of the strong liquidity of the foreign exchange market, with about $5 trillion in transactions every day.
Many Forex auto traders are available on the world's two leading trading platforms, MetaTrader 5 and MetaTrader 4. These are the world's most popular platforms for manual and algorithmic trading.
Benefits of automatic trading on index CFDs
Auto trading index CFDs is ideal for day traders. Stock markets open and close at a fixed time, which means your trading session can therefore be limited to trading hours without having to monitor an algorithm continuously.
Take advantage of open market movements and strategies developed around gaps in the market open, and market ranges.
Tight spread can limit transaction costs, making smaller trades more profitable.
Indices reflect news from economy and major companies, meaning you can choose an automated trading program that is triggered by fundamental analysis alerts.
Automatic trading on cryptocurrencies
With the large movements in cyptocurrencies like Bitcoin, Litecoin, Ripple and Ethereum over the past few years, many traders are looking at automated trading strategies for crypto.
Cryptocurrencies are an interesting market for trading algorithms, in that they regularly experiences peaks of volatility. On the other hand, they also experience long periods of range-bound movements.
The advantage of an automatic algorithm is to be able to take advantage of opportunities during peak volatility without the need to monitor the market constantly. In addition, the cryptocurrency market is open seven days a week!
However, be aware that the crypto market is still new and unregulated, so avoid purchasing any automated trading software that is specifically designed for crypto. Instead, focus on software that can trade a range of markets, which you can then program for your cryptocurrency trading needs.
Want to try automatic trading for popular cryptocurrencies, like Bitcoin, Litecoin and Ethereum? Then click the banner below to learn about the different crypto CFDs offered by Admiral Markets.
What's the best time for auto trading Forex?
The best times to use automated trading software are:
When economic publications and speeches are released by major market players
When technical analysis is at its most reliable
During major publications, markets tend to experience significant movements, which is why many traders specialise in using automated trading based on the economic calendar.
Forex trading software can be programmed to monitor regular economic events, like the announcement of the US unemployment rate. The software can then open an automatic trade following the movements caused by the announcement, as soon as the announcement has been made.
Let's consider a concrete example:
If US unemployment rate is lower than expected, an automated trading system can be triggered to go long on USD and US indices when the price closes above a simple or exponential moving average of a certain period.
If the US unemployment rate is higher than expected, the auto software can make short trades when the price closes below a simple or exponential moving average of a certain period.
The other good time to use automated trading software is when technical signals are at their most reliable. When is this?
The best times to activate automated trading systems happen to be when there is no economic data on the calendar, which means assets are more likely to respond reliably technical levels such as major support and resistance.
How to create an automated Forex trading system
To create an automated trading system - one that can be mastered with automated Forex programs - you'll need to start with you trading strategy.
Simply, a trading program needs rules to follow, and if you are unable to give it those rules (whether you program it yourself or hire someone to do it), it won't be able to operate effectively. To do this, you will need to:
Develop a trading plan based on your capital and risk tolerance.
Develop an automatic trading strategy with very precise conditions for taking positions and analysing the market. This might be linked to economic announcements, or certain technical levels.
Integrate trend analysis with a filter, to define whether the system should seek to buy or sell (e.g. a moving average).
The precise characteristics of a buy or sell signal depending on whether the trend filter is bullish or bearish (e.g. breaking the last peak for a long position or breaking the last trough for a short position).
By following the four steps above, you will be able to create your own automatic trading system, with the first two steps being essential prerequisites for the creation of your Expert Advisor.
Note the importance of accurate conditions for opening or closing positions. If the instructions are not clear and precise, your system will not perform the desired operations, or perform financial transactions other than those desired.
How to start auto trading Forex
When it comes to using automated trading software, there are both free and paid options available.
How to do free automated trading
Free auto trading simply means you are programming your own automated trading software, rather than buying one of the currency trading programs available on the markets.
To do this, you will need to:
Create a trading strategy with clear rules and triggers for opening and closing trades.
Code that strategy into an Expert Advisor that is compatible with your trading program.
If you haven't already, download a free trading platform, usually available via your broker. (At Admiral Markets, we offer traders MetaTrader 4 and MetaTrader 5).
If you don't have the skills to code your own forex trading program, Admiral Markets offers the MetaTrader Supreme Edition plugin for free to all live and demo account holders.
MetaTrader Supreme Edition is a tool for MetaTrader that has a range of exclusive indicators and Expert Advisors (or automated trading programs) that you can use to supercharge your trading. For example, the free software trader EA Admiral Correlation Matrix calculates the correlations between several instruments and markets, giving you a clear picture of the correlated movements of the financial markets - and is 100% free.
Another example is the Admiral Donchian flag which has an alert to warn you of the breakout of a major price level. All free automatic trading software is not intended to open positions - some only serve to send signals and alerts to the trader.
If you're ready to get started, click the banner below to download MetaTrader Supreme Edition today!

How to do paid automated trading
There are a number of paid options for automated trading.
Once you've created your trading strategy, the first option is hiring a professional programmer to build an EA, and then to test it on your trading platform to ensure its effectiveness.
If you decide to have your Expert Advisor MT4 or MT5 develop by a professional, the bill will depend on the complexity of your strategy. As a general rule, the more complex the program is, the more it will cost you.
Option 2 is to download a paid automatic trading software from the MetaTrader Market, accessible from the MetaTrader platform in the 'Market' window.
Option 3 is to find an automatic trading program on a third party website.
For options 2 and 3 to be their most effective, it's important to take the time to learn about the Forex software and check the opinions of users and the strategy used. The main risk lies in mastering the trading strategy of the algorithm. In order to use the automatic Forex trading software correctly, you must understand the strategy it uses.
When you are buying from third-party sites, also be wary of unscrupulous sites that may be selling losing algorithms and using false advertising. If this is a concern for you, do not hesitate to buy a Forex algorithm from a serious developer who can explain the implemented strategy.
Automated trading in MetaTrader
While there are a range of trading platforms that accommodate automated Forex trading, the world's most popular platform is MetaTrader. Both MetaTrader 4 and MetaTrader 5 offer traders access to a wide range of markets (thousands, with Admiral Markets!) from a single platform, along with advanced charting functionality.
The platforms are also compatible with Expert Advisors (EAs), which allow you to carry out trades automatically.
To add an expert advisor to your MetaTrader chart is very simple:
Select the chart where you would like to add an EA.
Click the "Navigation" panel.
Expand the "Expert Advisors" menu, followed by the "Advisors" menu.
Select your preferred EA and drag it onto the chart. You can also double click on it to apply it to an MT4 or MT5 chart.
Fill the desired parameters into the popup window.
In the "Common" tab, check "Allow Automated Trading".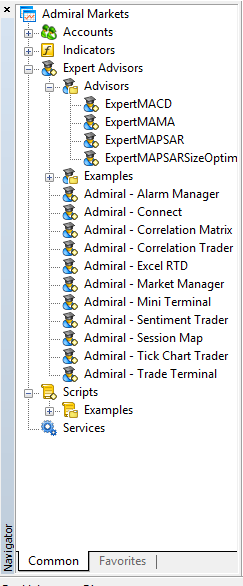 Source: Metatrader 5
How to Optimise an MT4 or MT5 Expert Advisor
Type Ctrl+R to open the strategy tester.
Choose an indicator or MT4 EA to test.
Select the symbol (instrument) you want to trade.
Define the unit of time on which the EA will operate
Indicate the spread that the EA will use to simulate positions taken in the past.
Check the "Optimisation" box.
Click "Expert properties" to customise your MetaTrader optimisation.
Source: Optimisation Parameters, Admiral Markets MT4
Once these parameters are customised, all you have to do is press 'Start' to start the optimisation!
How to Analyse an MT4 or MT5 Optimisation Report
Once the optimisation is finished, you can go to the results in the 'Optimisation Results' tab. The different results can be sorted by:
Profit
Total number of automatic trades
Profit factor
Expected payoff
Drawdown $
Drawdown %
Input parameters
You just have to choose the best results to find the parameters that best match the time period tested.
You also have an optimisation graph that looks like the following image:
Source: Chart Optimisation, MT4 Admiral Markets
Beware, very often novice traders who use a trading program tend to fall into over-optimisation and find themselves using an approach doomed to failure because the parameters of their automated Forex systems will be optimised too accurately for a defined period of time established in the past.
Thus, during the periods of future trading, the particular trader who employs such a system will see results very different than those obtained in his backtests, so it is not uncommon to see an automated strategy be largely successful in the past but losing thereafter!
Is optimisation really useful?
If you only optimise a few parameters and your automatic system is dynamic and includes the price action reading, you will be more likely to avoid over-optimising your systematic approach.
On the other hand, it is useless, or even counterproductive, to seek to over-optimise an expert advisor. Finally, if you run several optimisations on your EA, consider changing the dates of the backtests, so that the algorithm is tested on different market context.
4 elements of an automatic trading strategy
Now that you know how to start auto Forex trading, with both free and paid options, as well as the steps to get started in MetaTrader, we will outline four elements that can help you choose the best automated trading strategy.
Keep in mind that these elements don't guarantee the effectiveness of any automated trading strategy or trading robot, it is only a guide to get your started. Following these steps, however, will help minimise the emotional aspect of your trading and maintain your trading discipline.
1. Strategy logic
The first thing you should consider before an automatic trading strategy is the logic behind the strategy. Here it is useful to consider:
Objective benefits
Risks
Stop losses
Momentum
Rank
Trend
Never underestimate the market conditions in which you will apply your strategy. Not all strategies work in all market environments. You must first consider the environment you are in, and then apply the strategy that works best.
2. Input and output signals
A large number of traders spend a lot of time worrying about the input and output signals in an automated Forex strategy. It is important to understand the general logic implied by the strategy, although we should not overestimate every operation the strategy makes.
In general, this strategy is a start for hundreds or even thousands of operations to come. Try to analyse the performance of the operations as a whole and not individually.
When you review your operations:
Place your winning and losing operations in different places.
Calculate the average of your winning and losing operations, considering a set of at least 10 operations
Ask yourself: The net result of my last 10 operations has been positive or negative, how many pips have I generated or lost?
Try to replicate the winning operations with higher returns.
3. Market conditions
Previously, we mentioned the importance of choosing the right automated trading software for the market in which you are trading. More often than not, traders forget this step.
There are two different types of market conditions. We will define these conditions as:
Trend markets
Range markets
These two conditions are mutually exclusive. When the market is in a trend, prices are constant and progressing in the same direction. An upward trend is one with higher highs and lower lows, while a downward trend has a series of lower highs and lower lows.
Ranges, on the other hand, are formed when the market is not moving up or down but the price is consolidating. Generally a price will fluctuate between an upper and a lower limit, known as support and resistance levels.
When choosing an automated trading strategy, neither type of market is better or worse - the only thing that should worry you is what kind of market condition your automated Forex strategy is based on.
4. Leverage
Now let's see the last item on our list: leverage. This is an area that is commonly missed by automated FX operators.
Most of the time, traders expect too much from automated trading strategies before using them. This can lead them to trade with high levels of leverage. And while leverage has the power to amplify your profits, it has the same magnifying effect on any losses.
The danger with automated trading software is that many traders tend to only look at the positive aspects of a strategy and ignore potential losses. This then causes them to choose higher levels of leverage than they should based on their available capital, and can quickly lead to large losses if market conditions change or the Forex bot doesn't perform as expected.
For this reason, when using automated software, we suggest using effective leverage no more than 10 times. If you are just starting out, you can consider even a lower level, for example 5 times the amount you want to invest.
The reason?
The benefit of using smaller amounts of leverage is that if your FX strategy experiences a reduction, you only risk a small part of your account and, therefore, you would have much more capital left to negotiate, compared to using higher amounts of leverage..
We hope this checklist helps you towards successful automatic trading. You will begin to implement the best automated trading strategy properly using the right leverage and performance expectations.
5. Bonus tip: Learn from the experts
If you really want to take your trading to the next level, the best way to get started is to learn from those who have been where you are now. The good news is that you can do this with our free webinar series, Trading Spotlight!
Three times a week with three pro traders, Trading Spotlight takes a deep dive into the world's most popular trading topics. Find out more and reserve your spot by clicking the banner below.
How to choose an automated FX trading program
While our auto trading platforms of choice are MetaTrader 4 and MetaTrader 5, you might want to consider your options on the market. In order to do this, it's important to define your needs and do your research by reading automatic trading reviews.
Define your needs
Since automated trading systems vary in terms of speed, performance, programmability and complexity, what is good for one trader might not be good for another. Some Forex traders will want a program that generates reports, or imposes stops, trailing stops and other market orders. Other traders, such as those who are less experienced, may want a simpler program with a set-and-forget feature.
With this in mind, the first step is defining your needs for the software.
At their most basic, any automated trading program should be able to perform the following tasks:
Generate reports or trading alerts automatically
Place stop orders
Manage standalone trailing stops
Place conditional orders directly on the Forex market
Trading in tick, or high speed scalping (High Frequency Trading)
Assuming the programs you are considering can perform all of the above, when it comes to choosing between different currency trading programs, here are some more elements to consider:
Real-time market monitoring
Remote access capability (this is vital if you travel often, or intend to be away from your PC for a long time)
Virtual private server hosting, or VPS, which provides fast internet access, isolates the Forex automated software for security purposes, and also offers technical support
Ongoing fees and commissions - is there a one-off charge to purchase the software, or will you need to pay extra fees and trading commissions?
Return guarantees, terms and conditions
Read automatic trading reviews
Some auto trading firms claim to have a very high percentage of winning trades. However, as the saying goes, if it sounds too good to be true, it probably is.
In fact, the main criticism made of automated trading software is of unscrupulous people selling losing algorithms. There are many trading scams on the internet, and it can be difficult for new traders to detect them, especially if you've never tried automatic trading.
Such advertising claims must be verified, and this is where reviews for Forex automation software can be useful.
A quick Google search will bring up a range of websites that list brokers who offer auto trading support, as well as reviews of specific automated trading programs.
On top of this, the best software publishers will provide authenticated trading history results in order to show the effectiveness of the programs they are offering. The golden rule is to understand that past performance is not a warranty of positive future results.
Consider the costs of the Forex trading program
While cost shouldn't be your top concern, price competition does currently favour the consumer, so perhaps it's a good idea to shop around for the best deal. Just be careful not to sacrifice quality for price. Prices for trading packages can range anywhere from hundreds of dollars to thousands.
Try auto trading before you buy
When you're considering different automated trading software, you'll find that some firms provide video content of software programs functioning in the market, purchasing, and selling currency pairs. If there are screenshots of account action with trade prices for buy and sell transactions, time of profit posting, and execution – then you should consider checking them out before committing to anything.
While testing new Forex automatic trading software, run the tutorial, or any other training function in order to see if it is appropriate and answers all of your questions. Additionally, you may have to call the support desk for answers to complex questions about programming, like the buy-sell criteria, and exploiting the system in general.
If a help link is offered to you, check how easy it is to navigate, and whether it's of any use to you. Some of your questions might not be answered through the information provided in the help section and knowledge base. A high level of service and technical support is crucial for Forex traders at any level of experience, but is especially significant for novices and newbies.
Often the majority of the leading firms will also offer a free, non-obligatory test of their automated Forex trading robots, so that the potential customer can see if the program is a good fit. In such a situation, test to see if the program can be installed easily, and ensure that you do not have any difficulties with understanding and using it.
Moreover, ensure that the software is programmable and flexible, so that you can change any pre-installed default settings.
How to test automated trading software
If you have found some auto Forex software that looks promising, the next step is to test it. Backtesting against historical data will help you confirm that the software behaves the way you want, before you put any money at risk.
You can also test the Forex automaton on a demo account over a significant period, or on a significant number of open automatic trades, in order to verify its functioning and its profitability.
A third option for testing is performing a manual test of your strategy on past course data.
In fact, you can test automated trading strategies using Expert Advisors in MetaTrader Supreme Edition, a plugin that includes:
The trading simulator
The Mini Terminal
The Admiral Keltner indicator
And much more.
These free trading tools allow you to try a systematic trading tools that can eventually become an algorithmic trading strategy.
What is the best platform for automatic trading?
While it's easy to get caught up in the possibilities of algorithmic trading, it's also important to consider the trading platform you will use.
The best platform for automatic trading must meet three criteria:
It must be intuitive: You must be comfortable using it
It must be functional: It must not restrict you in your trading strategies
It must be customisable and professional: You must be able to use it for both automatic and manual trading
Forex trading software is numerous but only a few are recognised as reliable and robust. This is one of the many reasons why MetaTrader 4 and 5 are the world's most popular trading platforms.
And this is why these are the automated trading platform we offer at Admiral Markets:
MetaTrader 4
MetaTrader 5
MetaTrader Edition Supreme
MetaTrader WebTrader
Download MetaTrader 5 below.
Which broker should you choose for automatic trading?
Just as choosing the right trading platform is important, so too is choosing the best Forex broker. You could have the ultimate automatic Forex software in your arsenal, but if you aren't trading with a reputable, ethical broker, you might struggle to access your profits.
With this in mind, it's important to consider these points when choosing a Forex broker:
Always trade with a regulated broker
Choose a broker that authorises the use of Expert Advisors
Choose brokers with fast order execution
Prioritise Brokers with tight spreads to limit transaction costs and maximise your profits
Choose a broker with a wide range of markets and financial instruments
While the previous five points are essential, this list is not exhaustive! Depending on your strategy, you may have additional requirements, for example: If your algorithm uses a hedging strategy, you must make sure to choose a broker that allows hedging.
For the vast majority of automatic trading strategies, Admiral Markets offers many advantages:
Regulated by some of the world's leading financial regulators - the FCA, EFSA, CySEC and ASIC
Tight spreads (meaning lower trading costs) on Forex CFDs and other instruments
No opening or closing fees for Forex CFDs - only the spread is paid
Mini lots available CFD, meaning you can trade in low volumes as you test your strategies - with micro lots from 0.01 lots
No minimum stop losses or take profits
Orders executed at the best prices in the market in just a few milliseconds
Speed, comfort and simplicity: enter or exit trades with just one click
Free real-time FX and CFD trading charts in MetaTrader 4 and 5
Access leverage of up to 1:30 for Retail clients, and 1:500 for Professional clients
Minimum deposits from € 200 - start small and increase your investment as you learn the markets
Final thoughts
While automatic trading software is not as simple as most Forex or CFD providers want you to believe, that doesn't mean it's impossible!
Like any tool, automated Forex programs are just one that you need to learn. Once you do, they can run your trades for you, while you spend time on the things that are more important to you.
It does not matter what level of expertise you have in Forex trading. Whether you are a beginner, an experienced trader, or a professional, Forex trading automated software can help you.
It is vital to understand that no Forex automated software can guarantee a 100% rate of winning trades. It's also important to remember that past performance does not guarantee success in the future. However, it is a tool that could give you an edge in the market, when used appropriately.
Ready to dive deeper? Then why not learn to trade in a safe, risk-free environment with a FREE demo account? It is an easy way to learn the basics of Forex trading and polish your skills as a trader before you progress to the next level. Click the banner below to open your free demo trading account!

Learn to trade
About Admiral Markets
Admiral Markets is a multi-award winning, globally regulated Forex and CFD broker, offering trading on over 8,000 financial instruments via the world's most popular trading platforms: MetaTrader 4 and MetaTrader 5. Start trading today!
***
This material does not contain and should not be construed as containing investment advice, investment recommendations, an offer of or solicitation for any transactions in financial instruments. Please note that such trading analysis is not a reliable indicator for any current or future performance, as circumstances may change over time. Before making any investment decisions, you should seek advice from independent financial advisors to ensure you understand the risks.