Get Started with MetaTrader 4
March 15, 2019 12:01 Australia/Sydney
MetaTrader 4, or MT4 as it is popularly called, is possibly the most commonly used trading software, known for its useful analytical tools and additional services. It has made analyzing and trading the financial markets easy, by offering access to advanced trading operations in a fast, secure and reliable environment.
The MT4 platform consists of an in-built 'market', where you will find the widest selection of trading applications in the world. It has over 1,700+ trading robots and 2,100+ technical indicators. If you want to find the newest technical indicator or even develop one of your own, Metatrader 4 will allow you to do just that.
One of the greatest advantages is its easy accessibility from multiple devices, iOS, Android and Windows, at par with the needs of traders today, who have to make decisions on the go. Here's a basic guide to help beginners learn MT4 trading.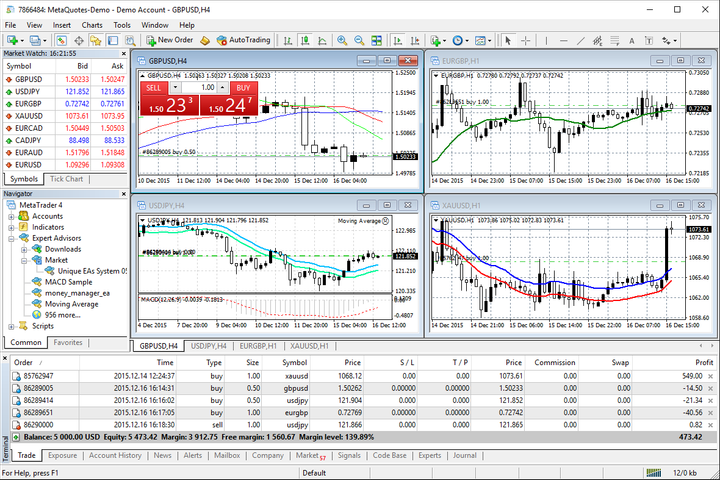 Source: Metatrader 4, GBP/USD Demo Account, 31/07/2018 (https://www.metatrader4.com/en/trading-platform)
How to Download and Install MetaTrader 4?
Follow these steps to download and install MT4:
Download MetaTrader 4. You can visit the MT4 download page and simply click on the link of your preferred operating system.
Install the file, the process will open a dialogue box, where you need to click 'run' and follow the installation wizard. After this, a shortcut will be created for MT4 on your preferred location.
Follow the account opening procedure with your chosen broker and open a trading account of your choice. You cannot open a live trading account on the terminal itself. Every broker will have different ways to go about this.
Log into your account with your details. Keep your account login and password details safe and confidential.
Source: Admiral Markets, MT4 Platform, 31/07/2018 (https://admiralmarkets.com/education/articles/forex-basics/metatrader-4-account)
Click on "new demo account" and "new real account." For "new real account," you will have to follow the above mentioned instructions. The "new demo account" is for traders who would like to practice their strategies before going into the live markets. Mostly brokers will provide you a demo account option as a complementary aspect, along with your live trading accounts. You can choose to use it whenever you wish to.
Basic Navigation Aspects
Once you are in your account, MT4, by default, will open four chart windows, each of which represents a different currency pair. See the image of the GBP/USD demo account right at the top. You will see these features:
Toolbar: Top of the screen, above the charts; the area that contains many icons, including 'File' and 'View'.
Marketwatch Window: As you can see, this area lists all the available currency pairs with their bid and ask prices, given in real time. There also are two separate tabs right at the bottom of the window 'Symbols' and 'Tick Chart'. Symbols will give you the list as shown above, while 'Tick Charts' will give you the price activity of the currency pairs.
Navigator: Right below is the 'Navigator Window', which has options like 'Accounts', 'Scripts', 'Expert Advisors' and 'Indicators'.
Terminal: This is at the extreme bottom of the screen with 12 tabs. The number of tabs here differs from system to system. You will usually find 'Trade', 'Account History', 'Alerts', 'Mailbox', 'Experts' ,'Journal', 'News ', 'Code Base', 'Company', etc., here.
The 'Trade' tab here is for viewing and opening orders. 'Account History' will provide you a summary of recent activities.
How to Start Placing Orders on MetaTrader 4
Now that you can navigate through the system, you can start trading currency pairs. There are two ways to open a position on MT4; market order and pending order. An order is actually an instruction to your broker to perform a trade on your behalf. For this, follow these steps:
Click the New Order Button in the standard toolbar. You can also click on 'New Order' with a similar symbol in the toolbar. Alternatively, you can also press 'F9'.
A dialogue box will appear, which will give you two options: 'Market execution 'or 'Pending order'. The 'Market Execution' order will allow you to place an instant order on MT4. 'Pending order' will also place the order, although it will be executed at a future time, when the specified conditions are met.
Source: Admiral Markets, Market order window, 31/07/2018 (https://admiralmarkets.com/education/articles/trading-software/ultimate-mt4-how-to-guide)
Source: Metatrader 4, Pending Order Window, 31/07/2018 (https://www.metatrader4.com/en/trading-platform/orders)
As you can see, these are the figures of the typical pending and market order windows. There are several terms here that you need to be aware of:
Symbol: Choose your currency pair.
Volume: Trade volume or lot size.
Stop Loss level: An important and somewhat compulsory risk management tool for traders. It will automatically close your trade at a specified level, to prevent further losses.
Take Profit: Another risk management tool, to lock in your profits in time.
Comment: Optional; in case you want to note something.
Trailing Stop: Moves the 'Stop Loss' levels along a fixed distance, away from the current price, so that you do not get out of your position before time in a favourable market.
You will notice here that the 'Stop loss' and 'Take profit' option is disabled for 'Market Execution', so that you can get in on a trade faster, with the price already moving. If you choose 'Pending Order', you will have to fill in these options. Know what they mean:
Buy Limit: Going long at lower than market price levels
Sell Limit: Going short at higher than market price levels
Buy Stop: Going long at higher than market price levels
Sell Stop: Going short at lower than market price levels
Now, you can just choose 'Buy' or 'Sell' for the execution of a market order, or choose 'Place' for pending order execution.
The MetaTrader 4 trading platform gives you complete access and control over all your trades and accounts. We mentioned the 'Terminal' area of the screen, where you will find a 'Trade' tab. From here, you can keep track of your orders, open prices, volumes, stop orders, positions and so on. You can also review your trade history here.
How to Use the Charts on Metatrader 4?
MT4 opens up 4 different charts, each representing a number of currency pair actions. All the charts can be individually customised to change their appearance and properties. You can simply click on the "Add New Chart" icon in the toolbar or else click on the "File" menu and then click on the "Chart Option." From the "MarketWatch" window, select the currency pairs of your choice and then add it to the new chart.
When you open a chart and right-click on it, a dialogue-box appears, which will let you customise the properties of the chart. Some of the options included are 'Background', 'Foreground', 'Colors', 'Volume', etc. Here you can opt for a candlestick chart, a simple line chart or a bar chart.
Clicking on the template icon in the toolbar and then selecting 'Save Template' will be sufficient to start working.
Adding Pre-Installed Indicators
As we mentioned earlier, MetaTrader 4 consists of numerous technical indicators to help you with analysis. Even better, the most popular ones come pre-installed in the platform. There are over 30 inbuilt indicators on the platform. Apart from this, there are over 2,000 free custom indicators and 700 paid options, for detailed technical analysis. These indicators have been further categorised under the titles of 'Trend', 'Volume', 'Oscillators' and so on.
You simply have to go to the 'Add Indicators' option on the toolbar, and then select the desired category. You can even download an MT4 indicator or order it from the free options.