The Forex championship with over $540,000 in prizes
ForexBall™ is a Forex competition that lets you learn, have fun and win real prizes by competing against hundreds of traders.
Join Admiral Markets FX championship, ForexBall™, and experience something you have not seen before. Our contest offers one of the largest prize pools. Most importantly, it lets you improve as a trader. We've got a lot to offer for all types of traders. Experienced traders get to compete for the slice of $540,000 prize pool, while rookie traders get access to many educational offers. Our contests take place on a weekly basis. Each of the contests runs for 100 hours. Sign up at Admiral Markets Trader's Room to become a part of ForexBall™ contest.
What makes this Forex demo contest so great? The prizes, of course. Each year, we're giving away over $500,000 to the best traders from all over the world. Our prize distribution is based on your weekly and monthly performance in the ForexBall contest. Apart from a chance win attractive prizes, ForexBall participants also get an opportunity to spend time and connect with other traders.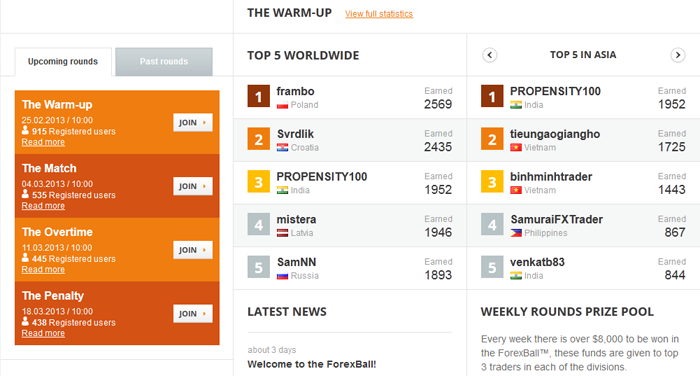 Our competition kicks off on Monday and lasts until Friday. This gives the participants enough time to show their trading skills on AM accounts preloaded with $10,000 of virtual funds. This way, each trader gets 100 hours to compete for the trophy.
Register at Admiral Markets Trader's Room and compete at ForexBall™
There are no participation deadlines - you can join any running contest at any time. Check the rules of ForexBallT™ to find out more about the distribution of prizes. You can also check one of the educational articles at ForexBall™ webpage.