MT4 is the preferred trading platform for Forex traders and brokers alike. Admiral Markets was a pioneer of this platform and has been updating it's functionality ever since. MT4 is world renowed in the Forex industry for its stability and overall trustworthiness.
Other platforms have a small number of users and trading volume, while MT4 has been used by numerous brokers and traders for decades. The increasing number of traders using MT4 has required consistent testing and improvement. Little wonder then, that Admiral Markets MT4 for Windows OS is now virtually bug-free.
Windows users find MT4 especially manageable, because the platform supports most Windows OS versions from MT4 Windows XP to MT4 for Windows 8.
Features of MT4 for Windows
MetaTrader 4 is more than just a reliable platform. It also features some of the most useful trading tools on the planet.
Technical analysis
MT4 for Windows offers an unbeatable range of proven tools, oscillators and indicators to support your basic or advanced technical analysis.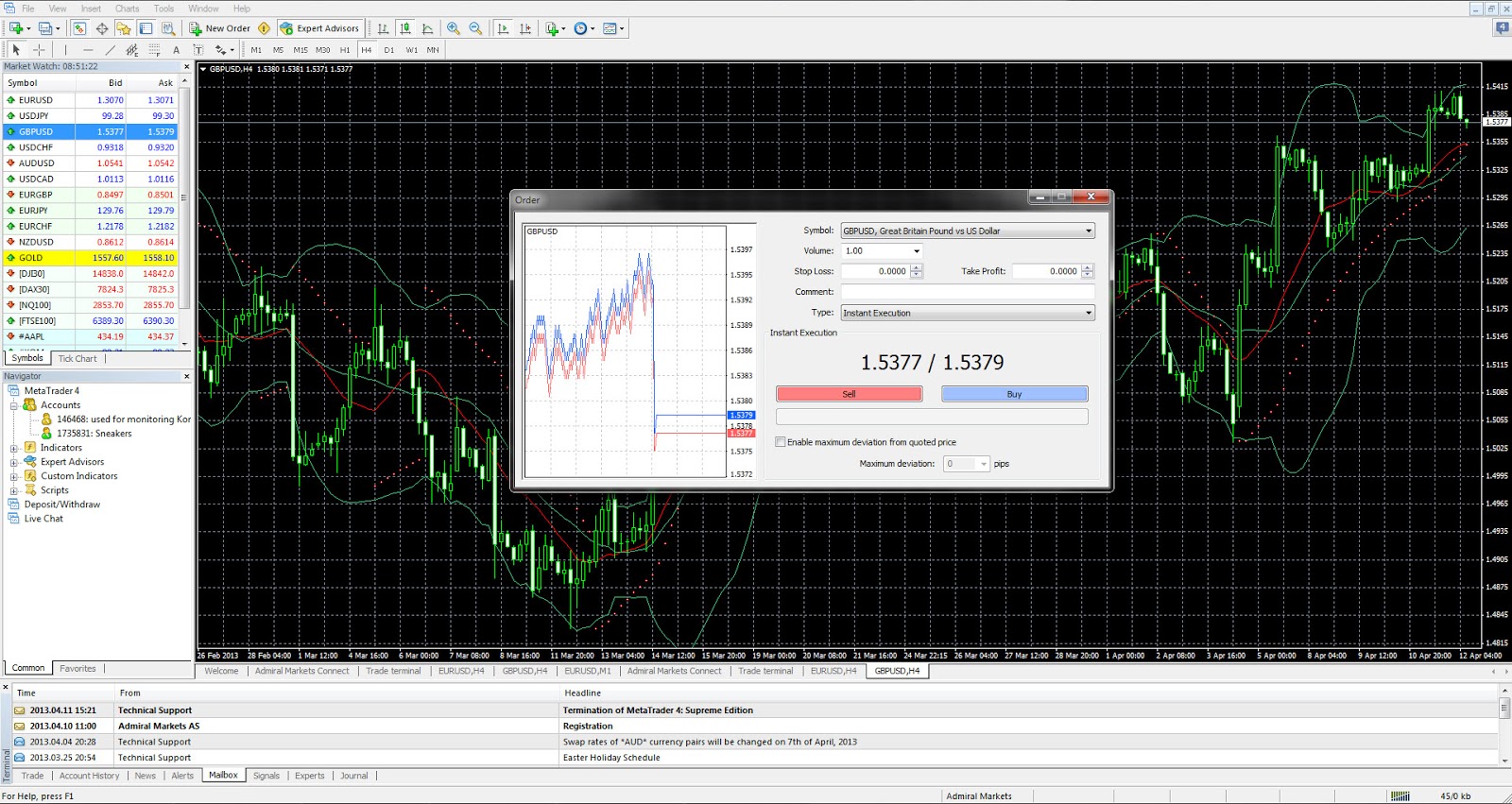 With more than 50 embedded indicators, oscillators and tools, you can be sure MT4 is adaptable to any trading strategy. Applying as many indicators as needed to each chart and your preferred timeline means you can optimally align your technical analysis with your trading strategy.
MT4 for Windows also takes you beyond general technical analysis, by providing helpful data off the chart.
MT4 Windows makes it easy to see your current exposure, which is particularly useful for traders running several positions in varied currency pairs simultaneously.
You can also improve the appearance of your chart. MT4 for Windows goes beyond providing regular line objects to draw support and resistance lines, by offering various advanced but easy-to-use graphical tools.
Order types for MT4 Windows
The variety of available orders type can make all the difference to your trading day. MT4 for Windows offers more than most rival platforms, by offering regular market orders and pending orders:
buy limit orders
sell limit orders
buy stop orders
sell stop orders.
MT4 for Windows also supports MT4 Supreme Edition, which means you can access even more order types like one-cancels-another (OCA).
Beginner and experienced traders alike, find advanced order types like Stop Loss or Take Profit especially useful.
Easy operation
MT4 for Windows is not only broad - it's also versatile and simple to use. For example, the one-click trading feature makes trading easier for everyone and is invaluable for scalpers.
Most rival platforms limit the number of active charts you can run. All MT4 for Windows versions eliminate this concern.
MT4 for Windows provides more than trading tools. For instance, you can access a trader's magazine direct from the platform.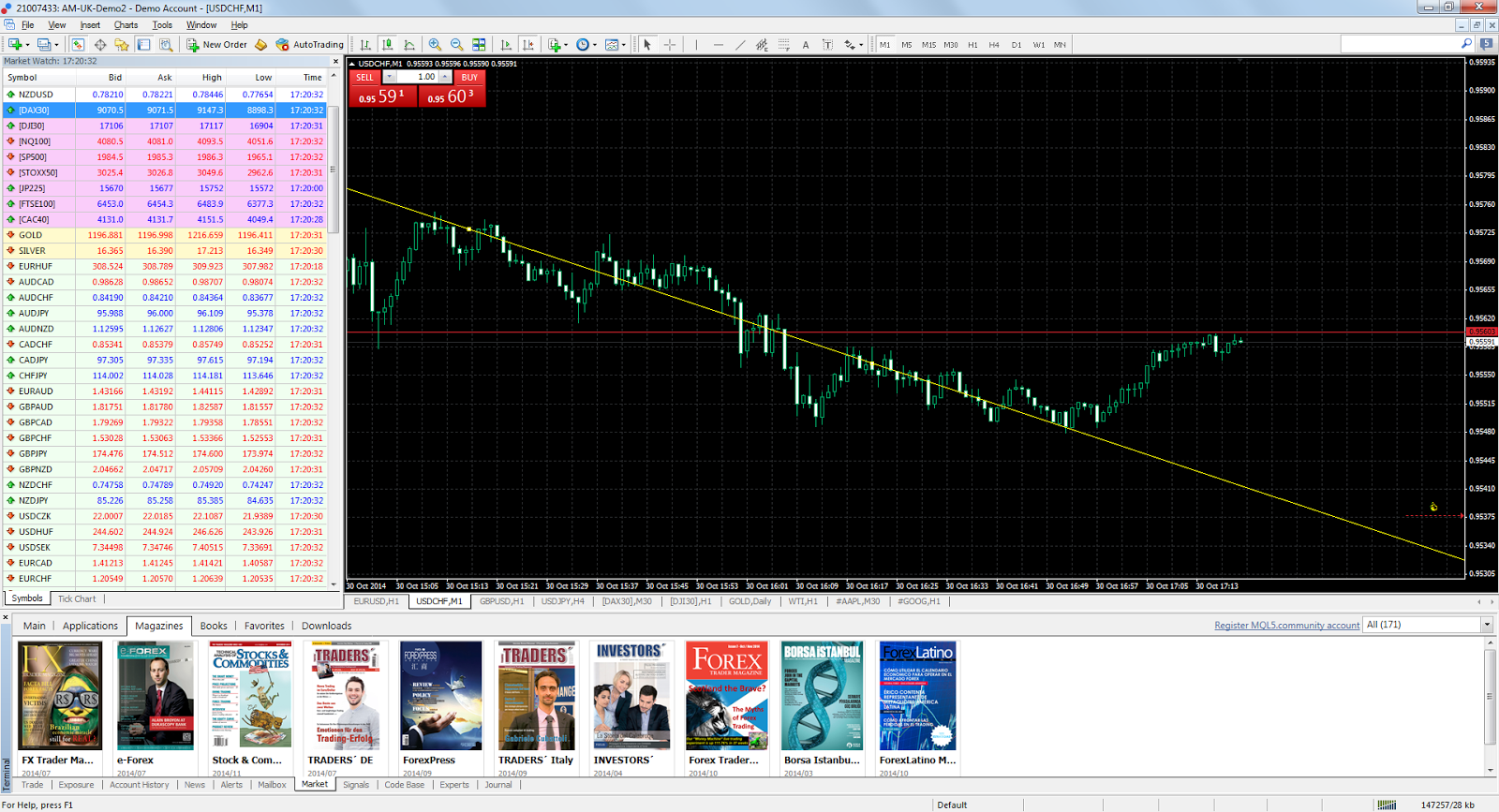 Robotic trading
The MT4 platform excels in manual and automated trading. MT4 for Windows features Expert Advisors (EA) built on proven MQL programming. The resulting trading benefit is that you can can either make your own EA to automate a trading strategy, or customise an existing indicator to extend its scope.
Installing MT4 on Windows
If you are using a Windows OS, you will find it easy to install MT4 and start using it. First download the MT4 installer, which comes in the form of an .exe file.
After downloading the installer, open it to see the installation wizard window. Now simply choose the installation path, agree to the terms and conditions, then select where to install MT4. Please avoid installing MT4 in your Program files, as MT4 may malfunction in this location. Choose whether to add MT4 to your desktop or another location.
After successful MT4 installation, enter your account details as prompted.
If you are not registered, you can get your account here.
Get MT4 on my computer
Download MT4 for Windows, by clicking on the icon below. After platform installation and opening an Admiral Markets account, you can enjoy trade over 50 currency pairs, CFD lots, metals, oil and more.
Enhance MT4 for Windows
Admiral Markets exclusive MT4 Supreme Edition is designed to improve your trading experience, with features like 1-click trading and diverse order types.